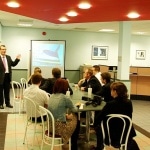 I am of Welsh-Scottish heritage, born in Berlin in the late 1960s to a Scottish soldier and a Nairobi-born book editor and teacher.
I gained an MA in Creative Writing from Manchester MU. I was in L'Arche in Sussex in the 1990s, developing work projects, supporting people in their homes. In the 2000s, in Swindon, I developed work training with clients with disabilities, including Year 9/10 students. In the early 2010s, I was Ammerdown's Training and Interfaith Officer, leading retreats and training days for local schools, and outreach to local Muslims.
Since 2014 (PGCE, Cardiff University), I've been a Lecturer in English in Swindon, UK. Teaching is active listening: I learn daily from students how to enable them to express their gifts and capabilities.
I continue to lead music retreats, and training events, in various locations across the UK, including Ammerdown and Minsteracres, Belmont and Douai Abbeys, and Launde Abbey, as well as at numerous parishes and for diocesan and other organisations.
I am a choral poet (librettist), gaining commissions internationally with composers such as Kim Andre Arnesen, Janet Wheeler, Chris Hutchings, Carson Cooman and Paul Spicer. Several major work and a host of smaller pieces, including best sellers such as 'Flight Song' have resulted. 2018 saw the release of three of my texts on a major record label, Naxos.
My writing is a song of living, vital, abundant life behind what is seen, infused from the outset by Whitman, Dickinson and Wordsworth, later by Larkin and R.S. Thomas; later by international giants such as Czesław Miłosz, Ninia Cassian, Miroslav Holub, Seamus Heaney and Dylan Thomas; by Frank O'Hara, John Ashbery, and Claudia Rankine; by great Arab poets such as Mahmoud Darwish, and by Ocean Vuong, John Burnside and Merle Collins.
I believe passionately in getting to know the other; tolerance is not enough; an active respect means we honour, celebrate, engage and learn. Difference is not a threat to our identity, but enriches it.
An exciting, continuing journey!