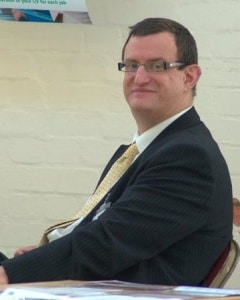 I am of Welsh-Scottish heritage, born in Berlin in the late 1960s to a Scottish soldier and a Nairobi-born book editor and teacher.
I studied English language and Literature at Hull University, and have an MA in Creative Writing from Manchester Metropolitan University.
I worked in L'Arche in Sussex in the 1990s, developing work projects and supporting people in their homes, later supporting clients with learning disabilities to gain and retain employment as part of Swindon Borough Council's Connect Supported Employment project (2001-09). In 2009-10, as Skills Factory Coordinator, I developed a new series of training initiatives for Year 9 – 10 students – including a small car valeting business! In 2010-11, I was a Trainer, delivering employment skills training to clients with a wide variety of needs, including Jobcentreplus clients.
Between 2011-13, I was the Ammerdown Centre's Training and Interfaith Officer, leading retreats, delivering training days for local schools, and developing the Centre's outreach to local Muslims.
I believe passionately in getting to know the other; tolerance is not enough; an active respect means we celebrate, engage and learn. Difference is not a threat to our identity, but enriches it.
Since 2014, having completed  a PGCE at Cardiff University, I've been a Lecturer in English in Swindon, Wiltshire, UK. I continue to lead music retreats, and training events, in various locations across the UK. For me, learning is mutual; the unique ability and humanity of each person requires the respect of attentiveness. As a teacher, the reality of a person's potential and strength, what a person could be, drives me – helping a person to discover the fullness of what they have to offer, regardless of ability. I learn daily from his students how to enable a person to bring out and express their gifts and capabilities for themselves.
My poetry has been published in the US and in the Irish Republic, and I am developing libretti with international choral composers such as Kim Andre Arnesen, Janet Wheeler, Chris Hutchings, Timothy Tharaldson and Paul Spicer. This has resulted in two choral symphonies, a multi-movement Christmas work, and a number of shorter pieces, some of which are best sellers. 'Flight Song', for example, has forty different performance on YouTube and has sold thousands of copies! 2018 sees the release of three of my texts on a major record label, Naxos.
I am a keen doublebass player and singer, and love the vibrant, changing life of the forest hills and of the two great rivers below my house; each day is always rediscovery.
For me, poetry is the "leaves to a tree" song of a living, vital, abundant life behind what is seen, infused from the outset by Whitman, Emily Dickinson and Wordsworth, later by Larkin and R.S. Thomas, and always by the energy of European and American poetry, my verbal imagination transformed by such giants as Czesław Miłosz, Ninia Cassian, Miroslav Holub, Seamus Heaney and Dylan Thomas, by Frank O'Hara, John Ashbery, and Barbara Guest, by great Arab poets such as Mahmoud Darwish, and now by such great contemporary voices such as Ocean Vuong, John Burnside and Merle Collins. It is an exciting and continuing journey, an awed, birdsong conversation where poetry forests the heart.
Other stories you might like