IN THEIR OWN WORDS…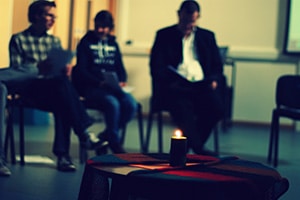 2018:

Douai Abbey: Retreat (29th March -1st April) Handel Messiah – mainly concentrating on Parts 2 and 3.

"Excellent speaker, with deep insights into the spiritual message of Easter…what a delight to have Euan run it…very interesting, highly knowledgeable, good new insights…fascinating content, gently and inspiringly presented and linked to the season…a lot covered in a gentle way.  I appreciate a different way of looking…Euan guided us through the Easter story passionately (but gently), using Handel's 'Messiah' as a conduit, and embroidered his own beautiful poetry…I found it really helpful using Handel's 'Messiah' to explain the Easter message…I would like to come to hear Euan Tait again very soon…lovely blend of fact with spiritual insight.  He led us beautifully into contact with God and ourselves…excellent talks, just the right number and length…"

Clifton Diocese Spiritual Directors' Day (Prinknash Abbey, 14th April 2018)
"You made sense of journaling for the first time for me. Thank you….using the Psalms as a conversation with God is great. It was a new release in journaling… It was just what I needed at this time. The journey of the Mass was wonderful…touched by encouraging us to be real…very moving choice of music and words. Also helpful sharing of experience – difficulty of caring – very reassuring. Love of the Mass and the beauty of the liturgy profoundly expressed and shared…from the heart to the heart…a very relaxing and nourishing day. I liked the way you spoke so much from the heart. I'm going to suggest that we invite you…a lovely blend of journaling creatively and honestly, and times of reflection in the music. more than I hoped for and has deepened my understanding of journaling. So true and heartfelt…an extremely thoughtful and learned man with such a passion for words and msuic and opening up closed souls -the sun shone in!"
2016 feedback from different participants and events:
"I absolutely loved [it]…I found it superb! I wish I could have a copy of your script…such a store of positivity for me. The way you declaimed the scriptures was wonderful – it was like hearing them for the first time….amazing. Loved the idea of being a 'map of the heart', loved the knowledge of the history of the musical scene…carefully researched…deepening appreciation of the Mozart Requiem…you uncovered layers of depth, where the soul could go…I have enjoyed and felt enriched by Euan's course…real depth and insight, the result of patient preparation…has introduced me to layers of meaning…informative and enjoyable, a deep spirituality…combination of emotional content of the music with St. John's Gospel was unusual and very rewarding…Herzlichen danke!"

LIBRETTI:

Feedback from performers:

The Wound in the Water is experiencing gathering waves of performances in the US – two in New Hampshire in November 2017 (New Hampshire Master Chorale); in Manhattan, New York in March 2018 (Florilegium Chamber Choir), and near Boston, MA, also in March 2018 (Commonwealth Chorale). People seem to have reacted to the work's message in visceral ways – moving for artists who long to speak for and to the heart, and become a person's fellow pilgrim.Comments include these by singers:"Euan Tait's text is thought provoking and reflective…" "…Tait's libretto and Arnesen's vocal/orchestral harmonies culminate in a poignant, aching Epilogue. For me, it seems a quiet prayer of hope, a plea for the recognition of our common human condition, and an ardent petition for peace. What could possibly be more relevant for our time than these closing words, the verbs in past tense?" (NHMC Alto, Gwen Dunn)And this from Richard Knox's programme note:"…up-to-the-moment sensibility. Music Director Dan Perkins was struck by its immediacy. "The text, in particular, resonated with the general angst I was (and am) feeling about the disastrous human (social/political) and physical (pollution, global warming) condition in which we find our world," Perkins says."
2015:

"An excellent understanding of the music & sensitivity to & empathy of the subject – heartfelt…"A whole new way of listening."  "Meticulously prepared and presented…." "The course was inspirational and life affirming.  Euan's personality and style – his compassion, integrity and yet light touch have made it a memorable weekend – the best ever at Ammerdown."  "Provided a stimulating and challenging approach giving a deep insight…"
2014:

Dear Euan,

On behalf of the Parish of Chepstow, I should like to commend you for the Quiet Day which was organised and led by you at St. Mary's Priory, Chepstow on Holy Saturday.
As feedback I should like to make the following observations about the day:

The ancient Priory Church had been prepared in advance in a way which lent itself well to the monastic history of the church. Stations were carefully situated throughout the building to give space and opportunities for prayer and reflection. The themes at each station led the participants on a journey around the central theme of the day 'Called by Jesus'. These prayerful spaces were each accompanied by thought provoking visual aids to draw us into a theme for contemplation. They were placed in a way that created sacred spaces which were sensitive to the particular chosen areas of the church building.

The day allowed each person to choose how much or how little they wished to partici- pate in. However the high points of the day were the 'Waymark' talks which took place between the times for quiet reflection. Euan Tait has a special way of drawing you into a place of deep refection as he develops his theme throughout the day, allowing each per- son to reach their own level of contemplation.

The day was also complemented by an art workshop where Bible texts were chosen to create imaginative stations of the cross, which were then assembled and painted.
We all benefited from the way in which Euan led this Quiet Day on this most holy of days as we were drawn into the mystery of the Vigil of the Resurrection. He is without doubt the most sensitive and inspiring leader of a Retreat that I have ever encountered.
Our heartfelt thanks go to you from the Parish of Chepstow,
Yours in our Lord's service, Revd. Christopher Blanchard. Vicar of Chepstow, 7th May 2014
2013:

"Superb presentation at the right pace. Well written aims to meditation and thought….The soft, seated delivery is right as the subject dealt at times with emotive feelings…Excellent preparation & printed guidelines, spoke clearly, friendly and approachable…Offered the retreat as our own time – to do and join in or not. Relaxed and easy to talk to at the meeting time before starting. Pictures (or one) very helpful…Good pictorial helps. Talks on paper to take away. Gentle simple but incisive talks in lovely language. Gentle humour helpful. Advent song gorgeous. Euan's joining as 'one of us' during the course meals etc much appreciated…Spoke clearly and slowly…Very well prepared. The materials are excellent and will be useful to think and meditate on over the Advent season…The pictures are inspirational and the questions thought provoking…Gave a lot of food for thought and time for reflection after each talk…I found the presentation helpful, prayerful, relaxing and meaningful…Speaking slowly and with conviction, making it all sound simple…Far exceeded my expectations, beautifully led and the right level and pace for me. I liked the handouts to refer to afterwards and will help me when I go home…Spoke slowly, was clear in his presentation, both verbal and visual. Material was useful during the day, also to take home when more time to study scripture. Session before lunch very helpful to me at the present time./Good quality presentation and materials."